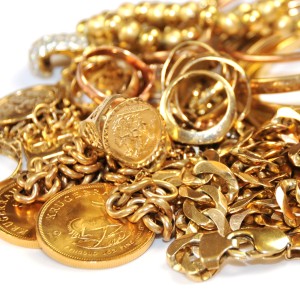 Looking to sell gold in Scottsdale? Come to our pawn shop to get cash for gold!
Why should I sell gold and silver? 
Gold and silver are still at a high price considering the price its been at in the last 30 years. Sure, it's down from the peak a few years back, but it's still much higher than it was throughout the 80's and 90's. Many people have gold that they paid very little for during those times and they simply just do not wear it anymore. That old gold sitting in your drawer is worth something, so bring it down and get cash for gold. Generally, gold and silver get you the most money because of it's high liquidity – meaning it's very easy to sell, so we can pay more for it.
What type of gold and silver can I sell? 
We will buy all types of gold including 10Km 14K, 18K, 22K, jewelry, coins, bullion, necklaces, wedding bands, rings, earrings, bracelets, dental gold, and even broken gold.
We also buy sterling silver jewelry, sterling flatware (Reed & Barton, Wallace, Gorham, Towle), Native American turquoise jewelry, coins, and bullion. Just like gold, silver prices are constantly changing. So, how much we pay usually depends on what the market price is.
How do you determine the price?
When it comes to buying gold, the price we pay usually depends on what the market price is at the time you come in to the store. This is what we look at when pricing out scrap gold, non-numismatic coins, and unsigned jewelry. When looking at designer pieces like Tiffany & Co. Cartier, David Yurman, and John Hardy, we look at each individual piece separately from the price of gold and silver. If you shop around, you will find that a lot of pawn shops  pay just for metal content – even on designer pieces. The same goes for numismatic coins like a Morgan CC. They are always worth far more than their silver content, therefore, we pay a huge premium on top of the precious metal market price.
We strive to be the premier gold buyer in Phoenix and Scottsdale. Located just south of old town Scottsdale on the NW corner of Scottsdale Rd. and Thomas.